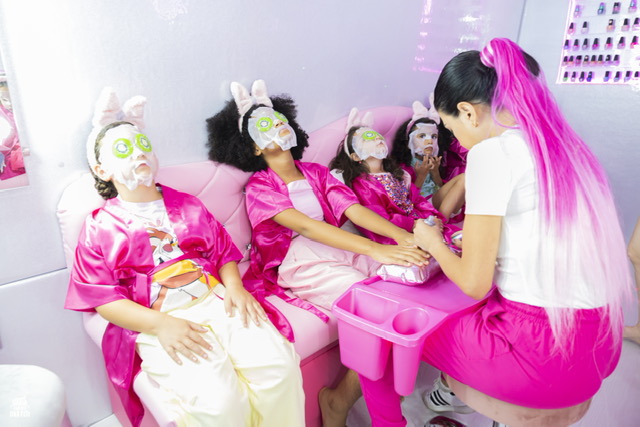 Service Area: Miami Dade & Broward
MON-SUN 09:00 AM - 11:59 PM
Frequently Asked Questions
Most frequent questions and answers
Can I cancel or change the party location?
Yes, you can also change the party location or cancel the party. For cancellation and changing location please give us 48 hours' notice and we can cancel your party. We make every attempt to reschedule your party. you can also reschedule your party.
What is the reserve deposit? And how is the full charge made for my reservation?
The reservation is with 50% of the total amount and the system automatically charges the outstanding balance between 24 and 48 hours before the scheduled party.
What is Glam n' party
Glam n' Party is a mobile spa bus service, we bring spa parties for girls at your doorstep, office, etc. we are providing the best spa party services for girls.
What form of payment do you accept?
We accept online payment options by cards, zelle or cash.
How do I book a mobile spa party?
To reserve the spa party date and time in the Miami Florida area, visit our site and choose Book Now option. Here are package details simple choose a package that suites for you. For more information please call.
How do I prepare for a mobile spa party?
All you need to prepare for a spa party is book a package on our website and select destination and time, we take care of rest. We are bringing a spa party for you, our friendly hosts will do everything needed in spa parties like music, polishes, party props, and many more. Please let us know when you book your part you need special space restaurant etc. we arrange you a special spa experience that meets your need. We also require access to electricity and running water.
Are children younger/older than the age requirements are allowed?
We bring spa part services for girls age 3–15 years our policy is to arrange parties for a specific age. We are experienced working with children. Therefore during the party, if we discover the guest under/over age your party will end early.
How do I add guests to the party?
In our package section, we allow 12 guests, but with extra charges, you can add more guests also. You can invite all the guests and provide them place and time.
How spa party services changes in covid-19?
As a responsible business, our priority I to provide a safe experience. After the covid-19 pandemic, we make changes according to the guidelines of the government and maintain covid-19 protocols for your safety.
What happens when a party cancels due to weather or mechanical failure?
If Glam n' Party does not arrange a spa party due to extreme weather conditions and any other natural conditions, we will return your full deposit and will make an alternate party and arrangements that acceptable by the party host.
Where does the bus go during the party?
The bus remains parked and we don't drive the bus during the party. This is a party bus and it comes to the part location.
Is there is a space for parents to stay on the party bus?
Due to limited space, parents are not allowed during the spa services. however, the host's child's parents are only allowed on the bus during the spa party.
Can I book this bus for adults?
Yes, we will offer the Spa bus for adults, although our specialty is girls' parties. We can also go to bachelorette parties, birthdays, makeup courses, all this under prior coordination and agreement with our team.
Should we tip the party hosts?
Tips are not required we provide a spa party service for little girls one of the kinds of experience, gratuities are much appreciated.
What is special about your services?
We are the first spa party service in Miami. We have provided the best spa services for your daughter. In our services like manicures, facials, make-up makeovers, we have new technologies foot bath systems, etc. we cannot reuse the spa materials. We are providing luxurious services for your girl.
What should the girl do to prepare for the spa party?
The girls should come with removed nail polish from their hands and feet.
Can we bring our own music?
Yes, however, we have all features on our bus like CDs, DVDs or sound systems to keep kids entertained during the spa party. But you can also bring your own music also. We also have internet so any request you make be play your music according to your choice.
If my child is invited to a spa party, will the bus pick up her?
No, we are not providing transportation services for party attendants. They will reach the host's decided venue.
If I book a party for 10 girls and only 8 are in attendance will I get a refund?
Glam n' Party bus not issue refund for the guests who are not present during the part-time. We suggest that you remind your guest time and place so that everyone should enjoy the spa party. We prepare for the girls in the contract.